Horn Mill Trout Farm has been a favourite fishing ground for the Rutland Ospreys for the last 15 years and, due to its close proximity to Rutland Water, can be visited by several birds every day from late March until late August.
The abundant supply of fresh trout at exactly the right size for a fishing Osprey meant that they started to have a significant impact on our business, and by 2013 we were losing up to 1000 fish a year, so we took the decision to net all of the farm in to prevent these losses and protect our fish stocks. After speaking to Tim Mackrill, Team Leader for the Rutland Osprey Project, we decided to take a very different approach from normal and leave our largest pond open for the birds to fish.
With the help and guidance of Tim's team we constructed a hide purely for photographing these amazing birds in action. The hide is sunk into the ground beside the pond and provides the only opportunity so far in England to experience and photograph Ospreys at extremely close quarters.
Session times & prices
Early Session: Dawn to 8.30 am
Late session: 4.30pm to Dusk.
£75 per person, per session.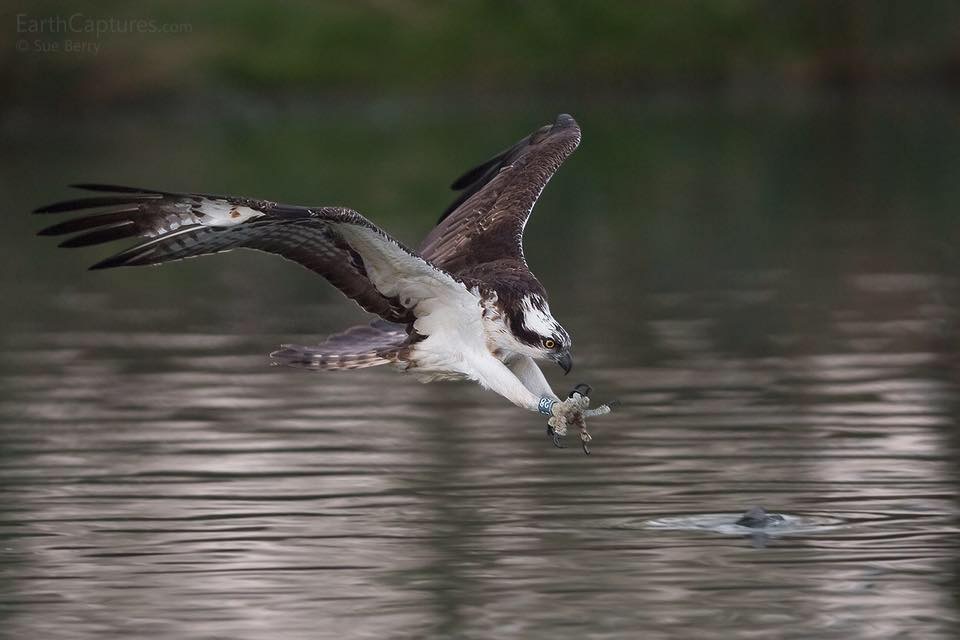 The hide at Horn Mill is purpose built for photographing Ospreys and provides plenty of space for up to 4 people and their equipment. It faces SW over a large pond that is 36m x 17m and stocked with several thousand trout. We opened in July 2014 and, after some initial frustration due to the varying feeding patterns of the birds, the hide started to produce some fantastic close range images of Ospreys in action. Some of the birds hit the water as close as 3m from the hide !!
Obviously this is a working fish farm and not a wild remote part of Scotland but we have done everything possible to make the hide and the setting suitable for photography and coupled with the chance to photograph our resident Kingfishers and Herons there is normally plenty to see in a session. The hide is available to book daily and session times are dawn-8.30am or 4.30pm-dusk. Prices are £75/person/session.
Payment Policy
All payments are via a bank transfer. Once a payment has been made, it is non-refundable. If for any reason you need to amend your booking, we will make every effort to rearrange your booking for a convenient date. Unfortunately, you will not be able to change your booking less than 72 hours prior to your visit.